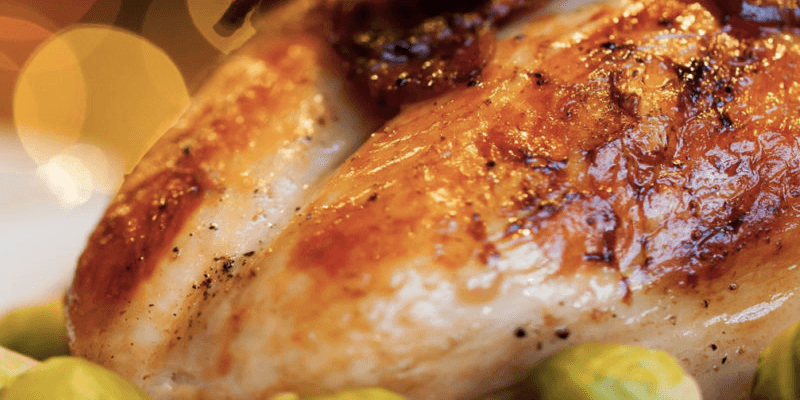 Maple-glazed turkey
Maple-glazed turkey
When I first started collecting family recipes, the one I really wanted to know was how my mother made her roast turkey, it was so good! The turkey breast was never dried out, but always tender and full of flavor. Her method? First she buys the best turkey she can (organic, free-range, etc.) and then she cooks the turkey breast-side down. She also cooks the turkey stuffing separately, not in the cavity, which makes it easier to cook the turkey more evenly.
7kg turkey
60g unsalted butter, softened
2 cups (500ml) chicken stock
1/2 cup (125ml) maple syrup
1/2 cup (165g) spiced redcurrant jelly
1/4 cup (60ml) orange juice
300ml pure (thin) cream
Lingonberry jam, to serve
Add Your Heading Text Here
Step 1 
Preheat oven to 180°C. Rinse turkey and pat dry with paper towel. Tie legs together with kitchen string. Brush turkey with butter and season, then place in a large flameproof roasting pan and pour in 1 cup (250ml) stock. Cover with baking paper, then foil and roast for 2 hours. 
Step 2
 Meanwhile, combine maple syrup, jelly and juice in a pan over low heat, stirring until jelly dissolves. Keep glaze warm. 
Step 3 
Remove foil and paper and baste turkey with glaze. Roast, uncovered, for a further 1 hour, basting every 15 minutes, or until cooked through and skin is golden and caramelised (the juices should run clear when the thigh is pierced with a skewer). Transfer to a platter and rest, loosely covered with foil, while you make the gravy. 
Step 4 
Place roasting pan over high heat, add remaining glaze and 1 cup (250ml) stock and cook, stirring, for 4-5 minutes until reduced by half. Add cream, reduce heat to medium and cook, stirring, for 2-3 minutes until reduced. Season and strain into a jug. Serve turkey with gravy and jam.